Howdy Rotary Family,
As we enter the holiday season and gather around our tables with friends and family to celebrate Thanksgiving, I am filled with immense gratitude for the privilege of serving as your District Governor. It has been a genuine pleasure visiting with each of your clubs, getting to know your members, and learning about your projects and how you uniquely make the world a better place. My heart is filled to the brim knowing that Rotary continues to positively fill our world. Thanksgiving reminds us to pause, reflect, and express our thanks for the blessings that enrich our lives. I am thankful for each of you.
We celebrated this past weekend all the accomplishments over the last year that our members, clubs, and district have accomplished through the Rotary Foundation in the past year. Many thanks to the Foundation Banquet Chair, Paula Smith, along with her amazing team of volunteers who made the event incredibly special. PDG and Foundation Chair, Beth Trotter recognized our donors while district and global grants chairs, Sharon Heinrich and PDG George Solomon shared stories about our local projects and collaborations abroad. Rotary Internal Director, Drew Kessler shared an inspiring and entertaining message about superheroes and more specifically, the power of one. The night concluded with the announcement of the Create Hope with Art winners and the winner of the District Conference raffle. Congratulations to Shirley Helms of Union West Rotary for winning the raffle! You can view the foundation program booklet (listed in the right column below) and peruse the photos taken by Neale Bayly.
May we seek to share our blessings generously this season. What are you grateful for? Who has been a blessing in your life? Reach out and share with those who've made an impact in your life! In the spirit of reaching out to others, be mindful of your members whom you haven't seen lately. A text, email, or phone call is a great way to share the gift of friendship and caring.
May this Thanksgiving be a time of joy, reflection, and connection with loved ones. I am grateful for the friendships we've forged, the projects we've undertaken, and the positive change we've collectively achieved.
Wishing you a warm and wonderful Thanksgiving filled with love, laughter, and the joy of shared moments.
Warmest Regards,
Debb
Introducing the New District Governor Nominee Designate
Jerry Coughter is District 7680's District Governor Nominee-Designate and will serve as District Governor in Rotary Year 2026-27. As a proud member of the Rotary Club of Charlotte, Jerry has served as a Board Member, Membership Chair, Foundation Chair, and as a member of the Program Committee and the International Service Committee, before serving as President in 2020-21. He is a RLI graduate. At the District level, he was co-chair for the Paul Harris Society in 2015-16, and an Assistant Governor from 2022 through 2025. Jerry is a Major Donor, Benefactor, and Bequest Society member, as well a member of the Polio Plus Society and the Paul Harris Society. In 2013, Jerry was part of a group of Charlotte area Rotarians to climb Mt. Kilimanjaro to raise funds and awareness for PolioPlus. Currently, Jerry is a WASH ambassador, advocating for water, sanitation, and hygiene projects. He serves as one of three North American representatives on the International Ambassador Committee of the Water, Sanitation, and Hygiene Rotary Action Group (WASH RAG). He is also a member of HANWASH, the Haitian National Water, Sanitation, and Hygiene Initiative, working to bring clean water and sanitation to all 11.5 million citizens of Haiti. Jerry was named Distinguished Rotarian of the Year by his club in 2022-23.
Professionally, Jerry is a Program Director at SSTI, a national nonprofit organization working to help states and regions create a better future through science, technology, innovation, and entrepreneurship. He previously served as the founding Executive Director of the Dubois Center at UNC Charlotte, Assistant Vice President for Economic Development at George Mason University, and Executive Director of the Virginia Research & Technology Advisory Commission and the Governor's Biotechnology Commission.
Jerry holds a BS in Microbiology from Clemson University. He earned an MS in Microbiology & Immunology from Virginia Commonwealth University and an MBA from Shenandoah University. He performed doctoral work in Innovation Policy at the Schar School of Policy and Government at George Mason University.
Jerry and his wife Claire live in Belmont, North Carolina. They are proud parents of two adult daughters, Cate and Mary. They enjoy traveling, hiking, bicycle riding, and flat-water kayaking with their rescue mutt, Beamer.
We need your help, as Rotary leaders, to raise funds and awareness for The Rotary Foundation this Giving Tuesday, 28 November. This global day of generosity is an opportunity for all members to make a big impact, with a gift of any size that supports projects you're passionate about. Here's how to get ready for Giving Tuesday: • Watch our Giving Tuesday video. • Donate to Annual Fund-SHARE on Giving Tuesday to support district and global grants. • Share our Giving Tuesday graphics on Facebook or LinkedIn. The Foundation will recognize the top three clubs in fundraising, donor participation, and online giving. Find out which clubs were recognized last year and set a giving goal for your club this year. Just be sure the gifts are made on 28 November! Thank you for your leadership and support. As we approach this day of giving, remind other members that every contribution, no matter the size, helps Rotary create positive change in the world. We know that with your help, Giving Tuesday will be a bigger success than ever.
Create Hope with Art
Create Hope with Art is an art competition that Rotary District 7680 sponsored encouraging high school students to consider what HOPE looks like to them and illustrate it through art. Ninety four applications from across the fourteen counties represented by D7680 were received. We are grateful to our judges who had the most difficult task of selecting the finalists and winners: Todd Herman, CEO of the Mint Museum; Chanel Davis, Chief Experience Officer at the Harvey Gantt Center; Victoria Schweizer, artist; and Andrew Knotts, artist. The top four winners won scholarship money and a donation will be made to each of their schools' art departments. Congratulations to all the finalists and the winners!
Winner of District Conference Weekend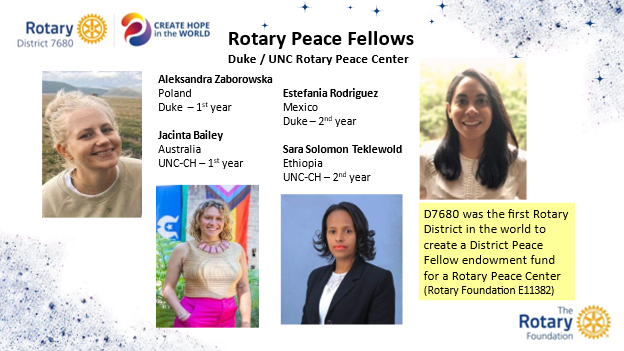 Rotary creates hope in the world through Rotary Peace Fellowships, supported by The Rotary Foundation. Since 2002, Rotary Peace Centers have trained more than 1700 Peace Fellows, who work in over 140 countries. Peace Fellows earn a Master's degree or Professional Development Certificate, funded by The Rotary Foundation. They work in a variety of professional, academic, and research settings to create and sustain positive peace and to prevent and manage conflicts.
Four current Peace Fellows from the Duke/UNC Rotary Peace Center attended our Foundation Celebration on November 18th and shared an Inspirational Moment (Blessing of Hope & Peace). The Duke/UNC Peace Center is one of the original Rotary Peace Centers and the only Peace Center in the Americas. Each of our Peace Fellow guests has a connection with Rotarians in D7680 who have established endowments with The Rotary Foundation, as matched by RI.
Sara Solomon Teklewold from Ethiopia is a second-year Fellow at UNC-CH in Global Studies. Sara is supported by the Wilson Family endowment, started by PDG Bill & Jean Wilson).
Estefania Rodriguez from Mexico is a second-year Fellow at Duke in International Development Policy.
Jacinta Bailey from Australia is a first-year Fellow at UNC-CH in Global Studies.
Estefania and Jacinta are supported by The Heinrich Family Foundation endowment, started by PDG Jim & Jan Heinrich, (D6600, Ohio) and shared with their daughter Sharon who is a D7680 Rotarian.
Aleksandra Zaborowska (Ola) from Poland is a first-year Fellow at Duke studying International Development Policy and is supported by our District 7680 Endowment. Aleksandra is our second matched D7680 Fellow. The first Peace Fellow matched with our endowment, Peter Adeyeye from Nigeria, joined us for our 2019 Foundation Celebration and graduated from Duke in 2021.
Did you know that D7680 was the first district to create an endowment at a Peace Center? Our endowment at the Duke / UNC-CH Rotary Peace Center was born when PDG Bill Wilson challenged us during a panel presentation at our 2016 District Conference. PDG Bill encouraged his Statesville club to use some of their funds as seed money. PDG Tom Smith collaborated to bring the endowment to reality during his DG year and encouraged his family to contribute. Many of our AKS and major Donors have added to our district endowment. Every gift matters, at all levels of giving, as we train peacebuilders. Our district endowment offers a way for Rotarians to direct their gifts to come together to support Peace Fellows at our nearest Peace Center, and to develop a more personal connection with Peace Fellows who are matched by RI with our district. The endowment fund (E11382) now stands at $546,143 and allows us to be matched with a new Fellow every four years. When we reach $750K, we'll be matched with a Fellow every three years. At $1M, we'll have a new Fellow every other year, and at $1.5M, a Fellow every year.
D7680 can be proud of our history of identifying and supporting Peace Fellows. We have had two Peace Fellows from our district: Patricia Shafer (Professional Development Certificate, Chulalongkorn University, Thailand) and Bol Maywal (Master's Degree, Bradford University, UK).
This month, we learned that Salim Uqdah from Charlotte has been accepted as our district's third Peace Fellow for the University of Queensland (Australia) Master's Degree program starting in 2025. This year, our district's Peace Fellowship subcommittee interviewed and endorsed two applicants beyond D7680, who were both accepted. Elise Nassir from Lebanon was selected for the Master's Degree program at Uppsala (Sweden) & Diego Carniero from Brazil was selected for the Professional Development Certificate program at Makerere University (Uganda). The Peace Fellow selection process is very competitive, so it's remarkable that all three candidates were accepted. D7680 accounts for nearly 3% of accepted Peace Fellows worldwide this year!
Many D7680 Rotarians have supported Rotary Peace Centers & Peace Fellows through the years, creating awareness, helping identify Peace Fellow candidates, shepherding candidates through the application process or serving in an interview panel, contributing financially to The Rotary Foundation, or participating in the annual Spring Conference when graduating Peace Fellows at the Duke / UNC Peace Center share their capstone presentations. (Save the date for April 6, 2024, in Chapel Hill, when Estefania and Sara and their graduating class will present.)
As Rotarians, through Rotary Peace Fellowships, we are investing in peacebuilders who will change lives and Create Hope in the World. "Rotary believes that if concerned citizens work together to create peace locally, lasting change can happen globally" (quote from RI website).
Find more information, visit Rotary.org (search for "Peace Fellowships") or the Duke/ UNC Rotary Peace Center website (search "rotarypeacecenternc.org"), or talk with a member of our D7680 Peace & Conflict Resolution Committee (co-chairs PDG Firoz Peera & Henry Aktig Lyon).
One of the highlights of my Rotary journey has been the opportunity to develop relationships with Peace Fellows at the Duke / UNC-CH Peace Center, and it has become a major focus of our family's TRF giving. I invite you to learn and support our Rotary Peace Centers. Join me April 6 at the Spring Conference in Chapel Hill when Sara & Estefania, with their graduating colleagues, share their capstone presentations. I promise you'll be inspired to learn how Peace Fellows are Creating Hope in the World and can imagine a more peaceful future because of Rotary. – Sharon
Currently, there is one Professional Development Certificate program (Makerere University, Uganda) & five Master's Degree programs: University of Bradford (UK), University of Queensland (Brisbane, Australia), Uppsala University (Sweden), International Christian University (Tokyo, Japan), & a partnership of Duke University & University of North Carolina at Chapel Hill.

At our Rotary Foundation Celebration, we celebrated the good work our clubs do with district grants. We celebrated the good we are able to do as grants are transformed into changed lives – creating hope in our communities & in the world. Here's a brief summary, by the numbers:
2022-23                       $ 105,920                                23 clubs                                   30 projects
2023-24                       $ 109,410                                30 clubs                                   39 projects
District grants are possible because of our contributions to TRF Annual Fund (SHARE Fund), as a portion of our giving is returned to the district to be used for global & district grants. District grants are designed to be flexible for clubs to meet needs locally, regionally, and internationally. Rotarians are actively involved in district grant projects, sharing their wisdom, work, and wealth.
Our projects have the power to make Rotary visible as we partner with other Rotary clubs, organizations and communities to create lasting change and to change lives. As immediate past district grants chair Luke Upchurch says our district grant projects extend our work & impact "beyond the meeting".  Our grant projects offer our members the opportunity for greater involvement in our communities, and to enjoy fellowship and develop friendships. Our projects create greater awareness of Rotary and are an opportunity to extend an invitation to others to join us. Through our projects, we can develop longer-term relationships and synergy as we serve together with other groups to create hope. We meet immediate needs, and we look upstream to address the root causes of those needs. The best projects do service "with" and strengthen the resources and abilities of individuals, families, organizations, and communities in the process.
As we reflect on our 2022-23 district grant projects, we have much to celebrate. We dared to imagine, to care, to share, to invest, to serve, and to say, "You're important". We created hope.
Here's a sampler:
Many projects focused on the most vulnerable in our communities, including children & youth.
As we feed those hungry, we provide a bridge to enable a better future and to sustain life itself.
As we provide school supplies, hygiene items, coats, a birthday bag, or holiday gift, we assure that students have the tools and encouragement they need to learn and thrive, we show our care for children & we share hope
When we place a book in a child's hands, help children and adults learn to read, share the wonder of music and art, and offer scholarships for lifelong learning, we promote education, we open up new worlds of creativity and opportunity, and we create a vision of hope for the future.
When we come together to plant trees, build gardens, teach children to care for them or create garden spaces for healing and peace, we grow sustainable environments & we cultivate hope.
When we improve parks, create shared and inclusive gathering spaces, and assure children have safe places to play that are accessible for all abilities, reach out across the airwaves to senior adult and their caregivers, or provide a ramp allowing folks to access needed services, we create safety, lessen isolation, encourage a sense of belonging, grow communities, and nurture hope.
When we share essential life-long skills of literacy, budgeting, and caring for the environment, we empower Head Start families & staff with essential daily skills to carry them through life.
Our district grants in 2022-23 reached beyond D7680 to create hope around the world, bringing hope to women and families in El Salvador who could use their new vented stoves to cook with less wood, resulting in cleaner air, healthier families, & more sustainable environments. In South Sudan, a rehabilitated eye surgery clinic in South Sudan provided a healthy place where people could have their sight restored, providing hope of transformed lives for themselves and their families.
As Rotarians, we may not fully realize the power of sharing our grant projects. Our projects and service seem only natural because that's who we are, and what we do as Rotarians. But sharing stories matters, and each grant has its own unique stories, only some of which we may know.
Last year, I was walking with a friend on a greenway in Gastonia. We stopped at a water fountain and she noticed a plaque at its base, which explained that it was donated by a Rotary club and Rotary's commitment to clean water. It led to a conversation about Rotary.
In my own life, my father served as District Grants Chair in D6600, and he shared about projects their clubs were doing, even before I was invited to join Rotary, and it increased my interest and understanding of Rotary. It also brought us closer together as a family & in the family of Rotary.
Who are you talking to about your grant projects? How are you sharing Rotary in your projects?
Let's celebrate our projects that have changed – and continue to change – lives for the better. Let's build on our partnerships to create lasting & sustainable change. And let's begin imagining next year's grant projects & how each club will create hope & contribute to peace in the world!
For more inspiration, view the slides of our 2022-23 projects at our Foundation Celebration.
Our 23-24 grants are underway, such as the Queen City Impact Club using their grant to support Honor Flight, recognizing the service and sacrifice of our veterans, and providing peace. Concord Afton Sunset is addressing food insecurity & mental health for community college students.
Did you know that Arch Klumph, whose motion to create a Rotary Foundation with the $26.50 remaining from the 1917 Rotary Convention was a flutist? District grants are like instruments, as each Rotarian and club plays their part, and brought together, can become a symphony of hope!
47,000 Pounds of Trash Removed from Catawba-Wateree River Basin at Riversweep Cleanup
On Saturday, Oct. 7, 1,200 dedicated volunteers removed a remarkable 47,000 pounds of trash and debris from the Catawba River during Catawba Riversweep. This one-day cleanup effort organized by Catawba Riverkeeper, which took place at 51 locations across the basin, highlights the profound impact that can be had when our community comes together for the health of our river.
The annual Riversweep cleanup removes litter and trash that has accumulated in the waters and on the shores. Litter has detrimental effects on wildlife habitat, as well as the safety and recreational potential of the waterways. The cleanup also removes items from our waterways that could potentially contaminate the 19 active drinking water intakes which supply water to over 2 million people.
During the cleanup, volunteers put on their gloves, grabbed supplies and worked together to remove all trash and debris in sight, resulting in the gathering of thousands of pounds of plastic bottles, Styrofoam, and tires. They didn't stop there. Countless items were removed from the river, ranging from the expected to the unusual and unwieldy, including household appliances, mattresses, parts of a dock, a satellite dish, and even an electric scooter. More than 200 tires were removed during the cleanup, further highlighting the need for an event like this.
The roots of Riversweep can be traced back to 2002 when a group of volunteers, along with the Lake Wylie Marine Commission, initiated an annual cleanup on Lake Wylie. Their dedicated efforts inspired other volunteer groups and organizations across the basin to follow suit, hosting their own community cleanup days. Fast forward to 2020, and Catawba Riverkeeper led the first basin-wide, single-day cleanup of trash and debris. The success of Riversweep is a testament to the unwavering commitment of hundreds of volunteers, many of whom have dedicated years to this cause.
Riversweep would not be a possibility without the invaluable contributions of our partners. We extend our heartfelt gratitude to ToolBank CLT, Palmetto Pride, Char-Meck Stormwater, Keep Charlotte Beautiful, Catawba Nuclear Station, Allen Plant Steam Station, Just Dump It, Mecklenburg County, Gaston County, York County, and City of Hickory for their support of the basin-wide cleanup effort. For more details about these partners, please visit our partner page. Special thank you extended to Riversweep's presenting sponsor, Catawba-Wateree Water Management Group.
Each year, Catawba Riversweep is an inspiring event to witness, as it brings the community together in a united effort to support the health of the Catawba River. The sight of hundreds of people joining forces to clean up the river and its surrounding areas is a powerful testament to the shared commitment to support the health of our river. It is truly amazing to see the dedication and passion of volunteers who selflessly contribute their time and energy to make this event a success. However, Riversweep is also a reminder that the work is far from complete and the continued need for cleanup efforts in addition to other initiatives that protect, preserve and advocate for our river.
Be sure to mark Oct. 5, 2024 on your calendar and join us at Catawba Riversweep next year!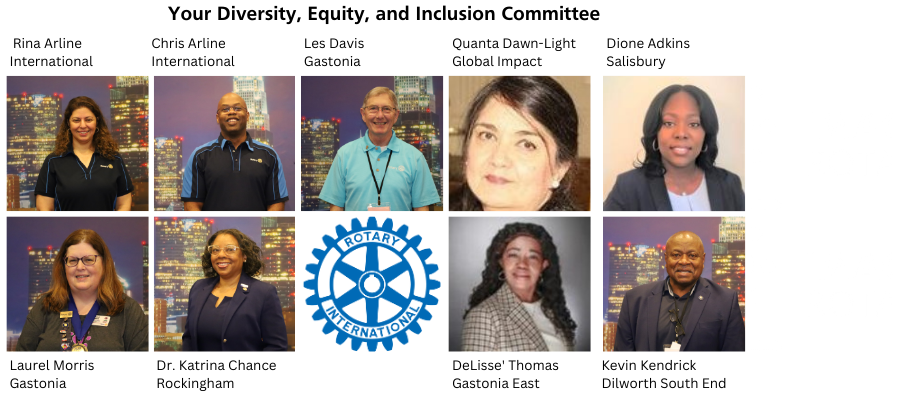 District 7680 Diversity, Equity, and Inclusion (DE&I) Committee Update 
November, 2023
On behalf of the DEI Committee and all of our club ambassadors, we wish everyone a peaceful and safe Thanksgiving. Even in this celebratory season, inclusion matters as choices are made between stuffing and dressing, pumpkin pie or apple pie, sweet potatoes or mashed potatoes! Here's to wise decisions and a realization that in spite of what life presents us, there is much to be grateful for.
MLK Weekend – A Day of Service
We want to remind everyone as well that we will be celebrating a Day of Service in honor of Dr. Martin Luther King, on the occasion of his birthday weekend. This day of service is replicated by Rotary Clubs, Districts, and many other organizations across the country. They provide us with an opportunity to do good on a day meant to celebrate the good done by Dr. King in his lifetime and his service to humanity at the cost of his own life.
The Rotary Club of Arlington, Texas has a four-day celebration called "Advancing the Dream" where they host a number of activities and service opportunities. First organized in 1989, this event has taken place for more than 30 years.
The Rotary Club of Birmingham, Alabama has a day devoted to community service in honor of Dr. King on January 15, 2024, when Rotarians will be working at the Gleaners Food Bank.
In North Carolina, Rotarians in Clayton have packed meals on this day of service.
In District 7710 (Raleigh), over 300 volunteers will work together to package 130,000+ meals to be distributed in Durham, Orange, Wake, and Johnston Counties through the Interfaith Food Shuttle. This project is a collaboration between 15 District 7710 Rotary Clubs, Duke University, Interfaith Food Shuttle, and Duke School.
In District 7730 in eastern NC, all clubs were given a small grant of $200 to kickstart a project on MLK Day last year, and that will continue this year.
Our DEI Committee would like to make this an annual service opportunity for members and clubs within our 14-county District. In this initial year, we are asking clubs to consider finding a volunteer opportunity during the four-day weekend of Dr. King's birthday:
On any day of that weekend, Friday, Jan 12 through Monday, Jan 15, 2024, find a service activity that you and others in your club can become involved in.

Service is service! It can be any service in our five areas of service: Club, Vocational, Community, International, and New Generations (youth-based). So if you want to volunteer at a soup kitchen (community service), work with a team from your job on a service project (vocational); write a letter to a soldier (international); prepare an invocation or moment of inspiration for an upcoming meeting (club service); or send a note to a youth-exchange student (New Generations) it's EASY to do something on this special day!

As you are participating or completing your service, take a picture of the activity and send it to

Jenny Kendrick

for an upcoming newsletter! We want to capture as many moments of service as possible for this first, annual Day of Service honoring one of the world's most important advocates for peace!
DEI – Who's Getting it Right?
Several clubs in District 7680 are taking forward-leaning steps in bringing DEI to their members. Our club in Salisbury is very active in building inclusivity into its programs and club offerings. DEI Committee member Dione Adkins of the Salisbury Club recently shared with us a few of the initiatives Salisbury has undertaken:
The club has a DEI Committee which meets monthly to plan events.

Upcoming events include presentations from other organizations effectively employing DEI initiatives, including election law revisions and omitted history.

Potential programs include hearing from members of the Catawba Nation, affordable housing to include VA benefits, the Asian experience, and book censorship.

Previous programs have included homeless advocacy and the Salisbury Police, Women's History moments, an update on the Opioid settlement, Hispanic businesses, and an interview with the first black student at a local junior high school in 1963.

The Salisbury Club and other organizations participate in an annual DEI Conference for the collegiate community within Rowan County.

The Salisbury Club endeavors to allow programs to be presented in a respectful manner which lends itself to serious discussion on the matters presented. Board expectations include intentional outreach and membership, using the Salisbury Rotary Club as a fulcrum for doing good in the community, and having civil discourse during all presentations.
If you would like to learn more about what Salisbury is doing, please contact Dione Adkins whose contact information can be found within DACdb.
How do you think about club membership growth? Is it a priority? Worldwide, attrition in Rotary (and similar organizations) is 14-15% a year. If a club is not intentional about inviting guests, it will probably shrink. Unfortunately, many clubs have known 'that shrinking feeling' at one time or another.
Here's an easy 5 step process to think about membership growth, with a few ideas for each. These would be ideal topics for a Club Assembly.
It's easier to grow when we remember we might change someone's life with a simple invitation.
STEP 1 – Know your Who and Why.
YOUR WHO
What are your GIVEN characteristics? E.g. lunch, traditional, young, satellite, large, etc.
What are your CHOSEN characteristics? E.g. support mostly kids, hands on, international, signature project, etc.
What are your CORE VALUES? Connectedness, fun, community involvement, service, etc.
YOUR WHY
What are you really trying to accomplish in the community?
What are your real goals? (It may not be membership growth) – Service? Raise community profile? Stay the same? Attract like-minded people?
STEP 2 – Identifying New Members
Discuss who you'd like to add. It may be by profession or personal characteristics. Email me at mwalker@stephens.com for a 15 minute club exercise.
Keep 'what's in it for them' top of mind to make it easier to invite people – Relationships, Service, Growth & Learning.
When a CULTURE OF INVITING is normal, clubs grow. When it's not, they shrink. It's not complicated.
STEP 3 – Attracting New Members
Invite guests to service projects and social events.
Host a Discover Rotary event where the focus is on guests and learning about Rotary and your club.
Consider a new format or satellite club, if your club is not convenient for your guests.
Consider new membership types, such as Corporate and Family.
STEP 4 – Onboarding
Create an Onboarding Chair position, to work with newly pinned members in their first year.
Create an Onboarding checklist, with what we ask of them, and what they ask of us. Email me at mwalker@stephens.com for a copy.
STEP 5 – Member Care and Engagement
We join and stay where we feel we belong. A "good fit" feels right. Be intentional about creating that.
Create a Member Care Team to contact members who miss __ meetings. Because we're busy, we sometimes have to formalize caring, sad as that sounds.
Elevate your club experience – more diverse speakers, better organized meetings, and making your club irresistible!
More meaningful service projects – a primary reason people join and stay in Rotary.
Work on one Step at a time, and find members with a passion for each. Let's Get Growing!
Romy Cawood, PhD, Charlotte Dilworth Southend Rotary Club
Greetings to all from our District's newsletter's first announcement about the new Mental Health Initiative.  Rotary International President Gordon R. McInally has announced that Mental Health is one of three areas he would like to focus on during his tenure.  As such he has noted three related goals, which are to:
Erase the stigma associated with caring about emotional well-being
Raise awareness about mental health needs
and Work to improve access to mental health services
In District 7680 we embrace this initiative with enthusiasm.  Our District Governor Debbie Corbett is a mental health professional and has invited me, a fellow mental health professional and psychologist to assist her this year with our District's focus on Mental Health.  One of our goals is to educate our District's members by inviting people engaged in work in the very broad field of mental health to address our clubs to educate us about mental health needs, including both the illness and wellness side of this topic.  The more we learn about mental health, the better positioned our District will be to imagine and create projects aimed to support it.
What you can do now to support Mental Health:
Start a conversation in your club at an upcoming meeting about what Good Mental Health looks like to your membership.
Reach out to leaders in your club's communities to find out what they rank as the top Mental Health needs within your community.
Public Image Folks-
My name is Chris Justice and I am the Assistant Rotary Public Image Coordinator for Zone 33 representing Districts 7670, 7680, and 7690.  It has been brought to my attention that many of you may not know about the Zones 33/34 Public Image Citations available to clubs and districts.  I wanted to reach out directly to clubs  and district folks to give you a very quick overview of the offerings.  While you all are free to contact me with your Public Image questions, I want to point out that all of our Districts have District Public Image Chairs and that is your primary club level contact.  Zones 33/34 offer regular monthly calls that provide clubs and districts with all sorts of very valuable public image specific content.  I would encourage all of you to attend those meetings.  I will not make it a habit to contact clubs directly as I know you get enough email.  I will be in communication with your District leadership, specifically your District Public Image Chair.
Some quick bullets for you-
https://elevaterotary.org/# is your one stop link for all things Zones 33/34 Public Image.  You will find the actions steps for the citations and all of our Public Image specific calendar items.
Citations-The citation program is new for Zone 33 and is taking a while to communicate.  When you go to https://elevaterotary.org/#, go to the "Recognition" tab.  The tiles in the middle of the screen give you your monthly action steps.  Click each one.  From the tile link, you will get specifics and be able to log your progress.  The deadline to complete July-September is November 15th so get those logged by Wednesday.  You can still earn certain levels of recognition if you miss the deadline but will not achieve Platinum.  If you have trouble navigating, please let me or your District PI Chair know.
We are seeing some AMAZING progress this year by clubs and districts alike.  Many of you are making your clubs and districts much more visible!!!
My cell is 336-580-6626 and email is Chris@justicelawteam.com.  Feel free to reach out if you have questions.
Chris
November is Rotary Foundation Month. This is the time of year when we reflect on and celebrate how Rotarians and Rotaractors are changing lives around the world through meaningful projects and through their generous gifts to The Rotary Foundation.
Members who engage with the Foundation connect to the international community of Rotary. Find out more about what The Rotary Foundation does by signing in to Rotary's Learning Center and taking these courses:
Rotary Foundation Basics
Learn about the work of The Rotary Foundation, including grants and programs as well as giving opportunities.
The Power of Giving
Our donors' impact on the Foundation is vital. Learn about the Foundation's funds and the programs that benefit from your donations.
Fundraising Basics
This course includes a variety of fundraising strategies but focuses mostly on identifying potential donors, building relationships with them, and soliciting donations.
Explore The Rotary Foundation course catalog to find these courses and more.
Preparing for the district team training seminar
Get an early start on planning for your district team training seminar.
The District Team Training Seminar Leader's Guide has materials for learning facilitators to download and use to conduct the seminar. It comes in a zip file with session guides and worksheets that you can tailor to your learning event.
Explore the District Leadership course catalog to find courses designed for various district roles. You can ask participants to take them before the seminar so that your sessions can focus on regional issues or group discussions.
This year, Rotary International President R. Gordon R. McInally is encouraging all members to support better mental health for each other and our communities in order to Create Hope in the World.
As people of action, our members are often exposed to difficult situations while doing humanitarian work.
Take the Resiliency course in the Learning Center and use its tips to promote a culture of care by leading discussions on mental health. You can also talk to members about how building resiliency can help them overcome stress or trauma.
Learning with others
Engaging with members before a learning event can encourage team building and promote better learning.  Use the Learning Topics area of the Learning Center to help you do this. First, take the Getting Started With Learning Topics course to find out how to share videos, links, and slides and how to post questions about your topic before your event.
Then encourage participation before the event by:
Uploading content you want to share with participants and asking them to share it with their clubs.
Commenting on documents that people upload and asking members questions on the Question-and-Answer page.
We want to hear how you encourage participants to take Learning Center courses to build their skills. Send us your ideas at learn@rotary.org.
SHARING HOPE WITH THE WORLD
Remember the sense of discovery, excitement, and community you experienced in Melbourne? The new relationships you developed? The project ideas exchanged? Those opportunities and more are all awaiting you again at the 2024 Rotary International Convention in Singapore!
From 25-29 May, you'll connect with old friends, forge new bonds, learn fresh ways to create impact and join us in Sharing Hope With the World.
Tell your club members about your awe-inspiring experience at the last Rotary convention and encourage them to join you at the biggest Rotary event of 2024.
Register now for savings. But don't wait! This discounted rate expires 15 December 2023.
Sign Up Here.
Meck South- Center of Hope Serving and Blankets
On Friday we tied 36 sold, colorful children's blankets for kids who have to stay at the Canter of Hope in Charlotte. They provide some comfort in a difficult time of transition. Our club delivered them the next day and served lunch to many of the over 200 women and children to receive services there. It was a heart warming afternoon and an opportunity to interact with recipients in need at an organization we support this year.
December 9: District Social: Go Rotary! at the theater. The inaugural holiday production of Need a Little Christmas in Charlotte. Rotary group tickets are available for matinee and night performances. NeedALittleChristmas.com
January 12-15: A Day of Service: A Day of Peace: Celebrate Martin Luther King by spending time in service and documenting it on social media.
January: Mid-Year Assembly
February 23-24: Go Rotary! Weekend of service. Plan a local project or activity and share the Rotary experience. Go Rotary!
April 19-21: Go Rotary! District Conference, Francis Marion Hotel, Charleston, SC.
To submit articles to the District Newsletter, please send to Jenny Kendrick at jakendrick@outlook.com by the last Thursday of the month.